At SENTRYSIX International, we take the safety and security of our hard-working healthcare providers seriously. As one of our security firm's specialized services, we proudly offer comprehensive healthcare security services. Thanks to our experienced private security team and our Security Director's background as a certified healthcare administrator, we've quickly grown to be industry leaders in the area of healthcare security. We even provide audit and consulting services to ensure compliance with The Joint Commission.
SENTRYSIX International offers comprehensive healthcare security solutions that allow for full integration with existing security systems and the implementation of new systems. Our goal is to provide safety and security services that enable our healthcare providers to focus on their mission of providing the best patient care.
Contact our professional security company today to learn more about our hospital security services or request a security proposal!
Environment of Care
SENTRYSIX International works closely and integrates fully with Environment of Care (EOC) committees to ensure all staffing, education, and technology requirements are met. Our team offers comprehensive assessments, audits, and development of reporting and management plans for regulatory agencies.
The Joint Commission
Our certified consultants have the experience necessary to assist your healthcare facility with ensuring compliance with The Joint Commission.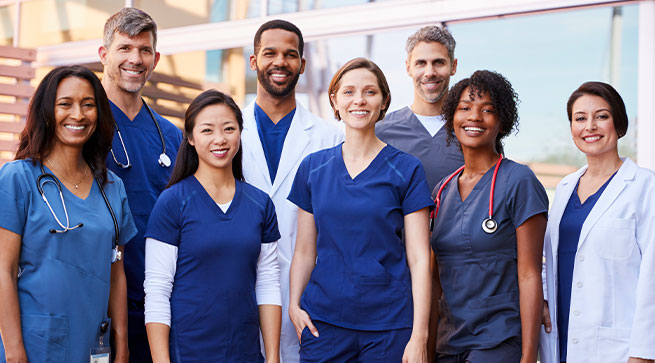 Hospital Staff Training
Our security firm is well-versed in hospital security requirements nationwide and offers a full spectrum of training programs tailored to the healthcare system, including emergency rooms, urgent care, medical office buildings, home health, ambulatory surgical centers, and more. As part of our advanced security services, we provide comprehensive training programs to healthcare staff using drills and exercises to simulate various scenarios such as active shooter incidents and infant abductions. We will plan and execute exercises with your team and conduct a full review and assessment.
Global Security Operations & Fusion Center (GSOC)
Patriot Eye Global Security Operations & Fusion Center is owned, managed, and operated by SENTRYSIX International. Patriot Eye serves as our full-service security operations center and is a central communications hub that integrates with any healthcare security program a client may have in place. Our centralized ops center provides nationwide radio communication services and monitoring to over 120 facilities nationwide. This center enables a faster response of security personnel, vehicle patrols, and other emergency services as needed. Our GSOC offers the following.
Public Safety Dispatch Communications
Nationwide Public Safety/Emergency Communications System
Patient Monitoring
Emergency Call Boxes & Emergency Panic Button Monitoring
Social Media & Open Source Threat Monitoring
Healthcare Security & Patrol Services
Effective hospital security is critical to facility, patient, and healthcare worker safety. At SENTRYSIX International, our team is eager to serve you and your healthcare facility by offering a full spectrum of security solutions. Learn more about some of the healthcare security and patrol services we offer, including the following.
Healthcare Security Officers
Security Patrol Services
Dispatched Emergency Response
Specialized Armed Emergency Response Teams
Off Duty Police Officers
Explosive & Narcotics Canine Detection Services
Visitor Screening & Management