SENTRYSIX International can take a comprehensive look at your existing security system or plans. As a result, we can help ensure that your current security system is able to protect against the ever-evolving threats that we face today. In addition, we will be able to identify any vulnerabilities in your security plan and recommend ways that we can improve your security.
If you don't have a security system in place, SENTRYSIX International will be able to conduct a full analysis of your situation and provide you with risk-informed recommendations, so we can develop a comprehensive security plan to protect your facility and your investments.
At SENTRYSIX International, our security risk management experts and analysts use fact-finding and analytical techniques to identify and manage any risks or vulnerabilities. Our services can help protect your business and the personal activities of an at-risk executive, individual, or family. Below, we have listed some of the techniques we use.
SECURITY ANALYSIS
Our security analysis techniques use qualitative and qualitative methodology alongside the Department of Homeland Security's approach to risks and rank any security risks across three categories: Threats, vulnerabilities, and consequences. SENTRYSIX International is able to provide a score-based platform to rationalize, plan, and align investments in security risk management capabilities that will reflect your organization's objectives, priorities, capabilities, and constraints.
TECHNICAL SURVEILLANCE COUNTERMEASURES (TSCM)
At SENTRYSIX International, we use technical or electronic surveillance countermeasures to conduct sweeps of boardrooms, offices, residences, conference rooms, or aircrafts and vehicles. These sweeps can help to detect any possible devices that may be used in corporate espionage.
EXISTING SECURITY OPERATIONS ASSESSMENTS & RED TEAM EXERCISES
Our security operations assessments and red team exercises are used to make objective and independent security assessments of your existing security programs. We will carefully evaluate your security system drivers, such as structure and funding, staffing and training, and the integration and effectiveness of technologies related to security risks.
COMPREHENSIVE RISK, THREAT, & VULNERABILITY ASSESSMENTS
our assessment, we are able to provide you with a detailed and rigorous review of any natural, accidental, and human threats. We will analyze risks, threats, and vulnerabilities that could impact your security. We can also make recommendations as to how we can improve your security to better mitigate any security risks that we find around your organization.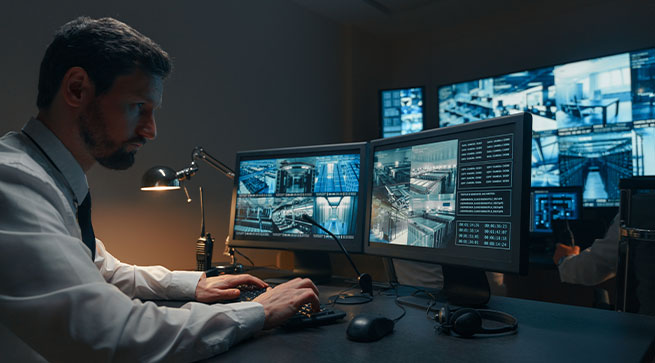 Don't know where to begin, to see which services are right for your company? Rest assured, we will help you every step of the way. We will sit down with you at your earliest convenience and provide a one-on-one consultation to see which of our products and services will best fit your company's needs. Contact us for a free consultation.